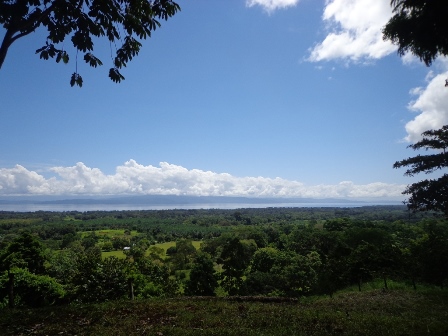 25% PRICE REDUCTION ACT NOW! Just 20 minutes outside of Puerto Jimenez, this lovely ocean view property is located in San Miguel de Cañaza. Drive right to the property in a regular vehicle and inside the gate to the view sites and their majestic Golfo Dulce views. The 5.6 hectare finca has primary old growth forest, recovering secondary, extensive fruit trees, and pasture land. The cleared building sites are ideal for building. The property is served by municipal water and grid electrical power, so buy today and break ground next month with simple building permit securement. With gorgeous ornamentals lining the sun-dappled driveway, the property boasts lychee, mango, soursop, citrus, avocado, and starfruit among other fruit trees. And yes, a river runs through it. Tapir tracks attest to the passage of these large mammals inside the property, along with peccaries, monkeys, armadillos, coatis, margays, cats, and a wild profusion of bird life. Scattered across its 13 acres are several building sites that allow for segregation of lots for resale, development of an eco-tourism resort (the new lodge Avatar is located on the property next door) or just holding the property as a single country estate and build on the highest part of the property with panoramic views of the Golfo Dulce, the Osa highlands, and the rolling hillsides and alluvial plane and fields that extend toward the coast. Buy the holding company and do a share transfer, or title transfer, your choice. All taxes current, the property's sole lien is for the mortgage that the owner has on the property. Titled and ready to go!
Property Features:
Mountains

Ocean View

Mountain View

Secondary Forest

Streams

Grid Power

Hydroelectric Potential

Municipal Water

Structure description:Se puede llegar ya sea en vehículo 4x4 o automóvil.