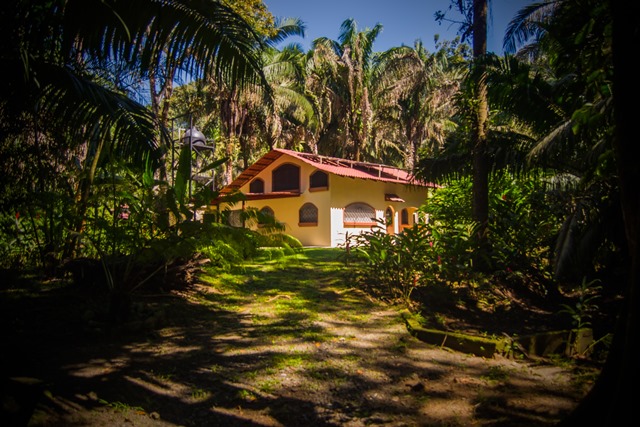 This beach front property and residence is located mid-way between Puerto Jimenez and Matapalo and has a stunning sand beach front. The property is titled behind the 200-meter maritime line and has a maritime use permit for the maritime zone itself; the overall property includes four separate smaller properties, each with their own site maps. Two of these are titled with 0.66 ha, and two are maritime with use permit (1.25 ha); only two of these planos are shown in this listing. The titled section of the property bounds the highway and has two homes. The main home is a two-story concrete and wood home with two bedrooms, living room, kitchen and dining area and two bathrooms downstairs. The second story is an open loft presently used for expansion bedroom space. A second home is a small one bedroom home occupied full time by a property watchman / groundskeeper. Both homes are beyond the reach of the national electrical grid and are solar powered. Water supply is from a well. The two homes have separate driveways from the highway that passes in front. The grounds are immaculate and include a variety of fruit trees and ornamentals and well-developed lawn. Within the maritime zone is a grove of secondary lowland trees, including almonds that draw a profusion of scarlet macaws to the property, interspersed with coconut palms and other volunteers. This property has vacation rental income potential and is situated almost ideally between town and Matapalo along a well-maintained gravel highway that is accessible year round. The surf along this beach is somewhat sheltered from the open Pacific by Matapalo Cape to the south, and the wave action is big enough for body surfing but not big enough for actual surfing (except during large swells) and is an ideal swimming beach. Moreover, the sheltered offshore environment makes this property ideal for boot moorage off the beach, something that is not possible further to the south owing to the higher wave energy. This property is a new listing, fresh on the market. It is titled and the four separate properties that comprise the whole are owned in a corporation and ready for immediate sale through full transfer of corporate shares rather than title transfer.
Property Features:


Beachfront

Ocean View

Primary Forest

Secondary Forest

Streams

On-site Water

Existing Structure

Structure description:Two story concrete home, two bedroom, upstairs full loft, kitchen, dining, two bathrooms, plus adjacent watchman's home

Access: year round by non-4WD vehicles
Casa Osa Tropic is a fully equipped vacation rental home located 12 km south of Puerto Jimenez on the Osa Peninsula. The home is situated 30 meters away from the main highway with a well maintained access road that provides for regular access 365 days per year. The home is situated on five acres of coastal lowland forest that is mostly secondary but also includes some remaining primary trees. The area surrounding the home has a rich and well-maintained lawn and the landscaping includes a wide array of tropical ornamental plants and fruit trees.
VACATION RENTAL RATES
# de pax
Nightly Rate
Weekly Rate
Monthly Rate
1-2 pax
100
600
1500
3-4 pax
125
750
1500
5-6 pax
150
900
1500
Extra person
Not applicable
Number Bedrooms: 3

Number Bedrooms: 2

Sleeps in Beds:

12

Fan Only

Solar Power Home